Yesterday, one of my blogging friends was thanking her friends for supporting her through a hard time. I told her, "You are very welcome. My "computer friends" have gotten me through so many hard times. Supporting you was the least I could do." When I used the term "computer friends", I am simply referring to all my wonderful friends that I've met through the boards I post to or the blogs I visit. Many of you I have never met in person but that doesn't make you any less of a friend. Two of my friends on my cross stitch board recently surprised me with gifts just because they wanted to. I wanted to say thank you to Dee and Carolyn. The love and support of friends during good times is as valuable as their love and support during bad times. Carolyn sent me a wonderful dragon (the green one)…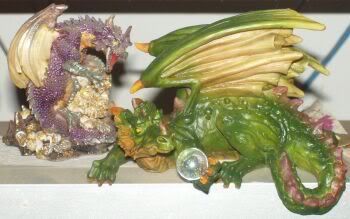 and Dee sent me a few cross stitch patterns off my wish list. I am so lucky to have friends like that.
The ladies on the cross stitch board also recently completed a gift for one of our members. This is the big project I referred to in my last post. 40 people from all over the world stitched squares of love and friendship for our dear friend Henny who recently lost her husband. I had the privilege and honor of assembling all the squares into a quilt. Click on the picture of the quilt to see close ups of the squares and a larger pic of the quilt itself.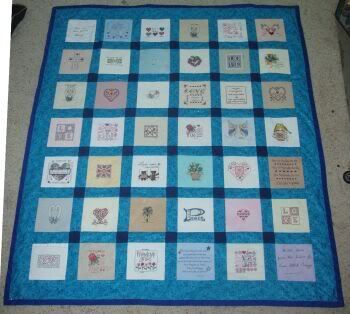 Have you done anything special for anyone recently? Has anyone recently surprised you with unexpected support, a present, or something you really needed? Pay it forward!