Yesterday, the kids, my *sbc Jennifer, and I dyed Easter eggs. Joey was exhausted but had a great time and was so creative with his decorations…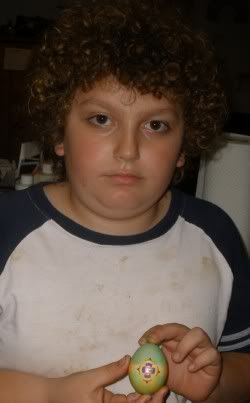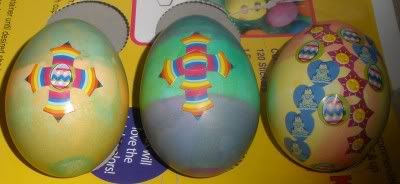 Gabe went for the monochromatic look but then went a bit sticker crazy…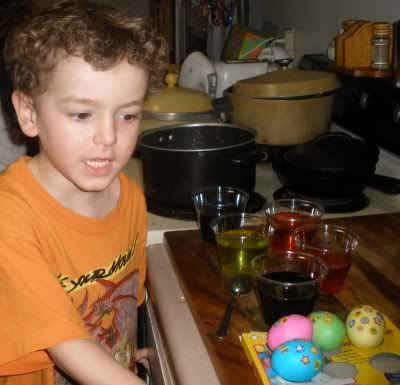 Marty dyed a few eggs. He too went monochromatic but he hid when the camera came out.
After the kids and Vic went to bed (he has to get up super early for work again, grrrrr), Jen and I put together the Easter basket's for the Easter Bunny to leave for the kids. Marty and Joey gladly play along for Gabe's sake.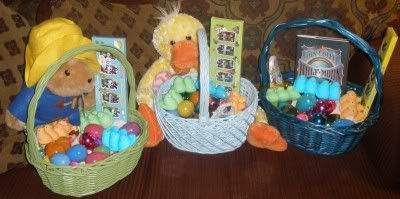 Right now, we are headed down to my parents' house for Easter dinner. Since Vic ended up having to work(I am so ticked off about this…not at Vic but at the situation), my sbc Jennifer is going with me instead.
I know not all of you hold the same religious beliefs that I do and I respect and understand that. For those of you whose beliefs differ from mine, I hope y'all are having a wonderful day with your family. For those of you who share my beliefs, I'd like to leave you with this quote…
"Now let the heavens be joyful,
Let earth her song begin:
Let the round world keep triumph,
And all that is therein;
Invisible and visible,
Their notes let all things blend,
For Christ the Lord is risen
Our joy that hath no end."
— John of Damascus

HAPPY EASTER
*sbc = sister by choice