Springtime seems to be when people stop and admire nature and all her beauty and majesty. Today, I wanted to share two of the wonders of nature I love looking at the most…
Jared Padalecki


and
Jensen Ackles

and, the best sight of all, these two fine specimens of manhood shirtless.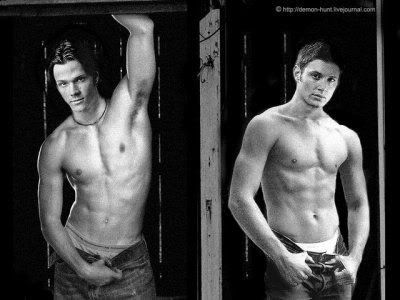 These oh so yummy pieces of eye candy play the brothers Sam and Dean Winchester on the most awesome of shows,
Supernatural
. On the show they are funny and snarky and sexy as hell. Oh yeah, in addition to getting to watch these miracles of nature, you get to do it all to the most bad-ass classic rock soundtrack a show has ever had.
So, is this eye candy sweet enough for you?
PS…the first two pictures are clickable so you can see all that yumminess up close.